Educe Design & Innovation — Studio Work


As a communication designer for Educe Design & Innovation from May 2019 to March 2020, I had the wonderful opportunity to collaborate with a multidisciplinary team in designing brands, digital products, and experiences.

---
STUDIO WORK (2019 — 2020)

Branding & Identity
UX/UI Design
Digital Product Design
Website Design
Illustrations
Publication Design
Design Workshops
INFO
My role was to translate client business requirements and user needs into visually exciting, easy to use, and emotionally engaging products through thoughtful visual design and applied technical capabilities. My responsibilities included delivering projects from conception to production and development, preparing training documents and workshops for clients, and consistently working alongside our CEO, studio director, printers and developers to bring the studio's designs to life.
The projects I contributed to during my time at Educe include designing printed publications and banners for marketing collateral, redesigning a continuing professional development education brand identity, logo, illustrations, and website application, creating informative illustrations for a men's fertility education hub, and redesigning the brand identity, logo, and website of Educe.
Below is a list of the projects I was involved in during my time at Educe.
Educe Website Redesign
UBC CPD Brand Discovery Workshop
UBC CPD Brand Identity and Engagement Strategy
UBC CPD Website
HisTurn Identity and llustrations
HisTurn Website
Beyond Air Renderings & Design Support
Illustrations
Created assets for an illustration library on the relationship between men's age and fertility, to be used in print assets, websites, or online animation.
Educational Presentation Slides
Created illustrations, diagrams, and designed slide decks for HisTurn on topics such as male fertility and epigenetics with the studio.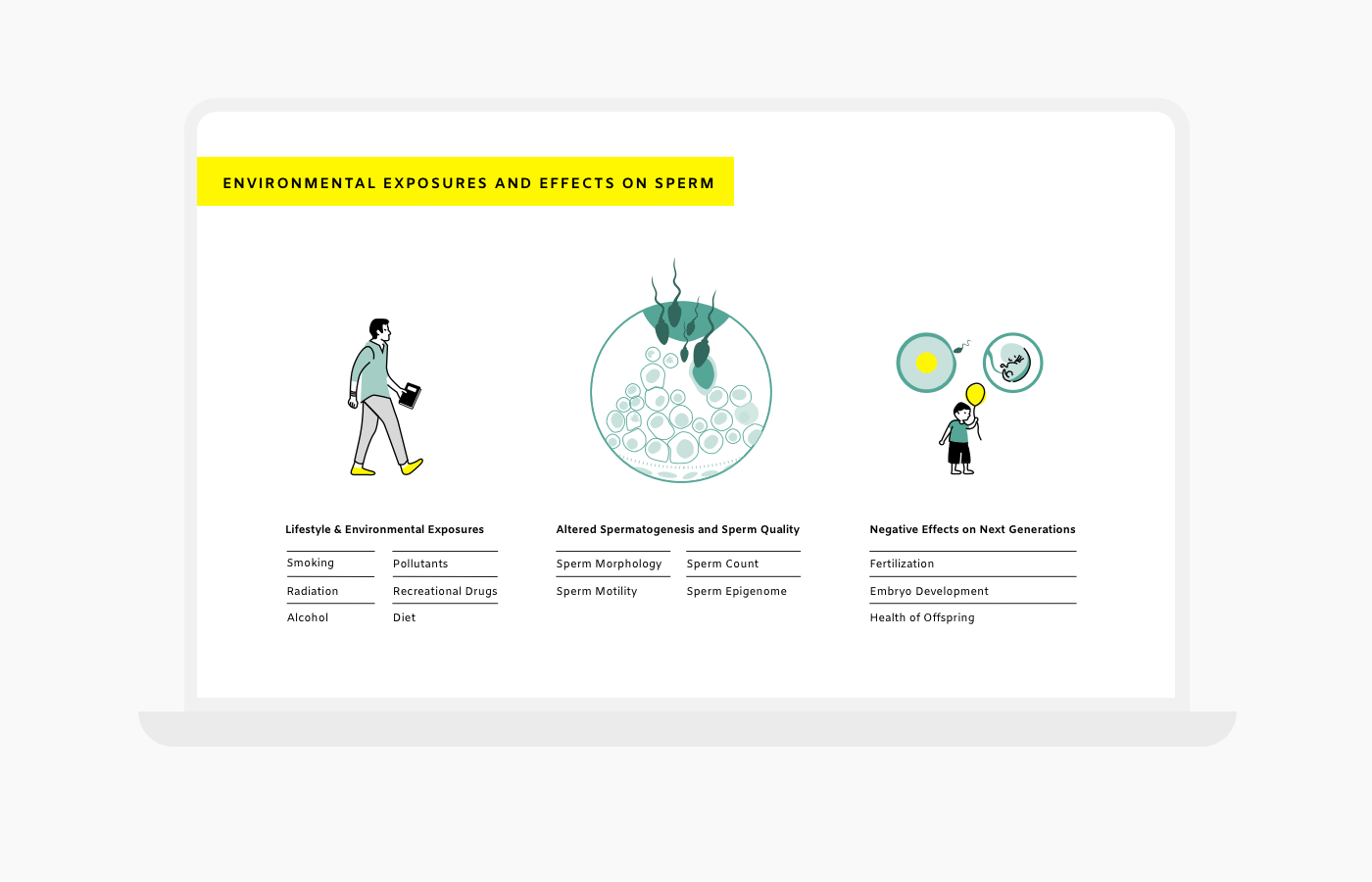 Brand Identity
Contributed to developing the HisTurn brand by creating additional icons, making updates to the website design, and designing various graphics and visuals on topics surrounding male fertility.


Brand Identity
Designed a logo and created brand guidelines with the studio for UBC Continuing Professional Development. Created illustrations, colour schemes, templates for forms, postcards, and other educational print material, and facilitated workshops with Educe and the UBC CPD team as part of their rebranding project.

Brand Positioning Workshop
Brainstormed with the studio on brand positioning exercises and design thinking activities to use in a workshop with UBC CPD, to help frame the main values they wanted to convey with their rebrand. Contributed to designing the layouts for the worksheets.